The most visited beach festival in the Baltics, "Summer Sound," will take place for the eleventh time in Liepaja this year on August 4-6. Get your tickets here!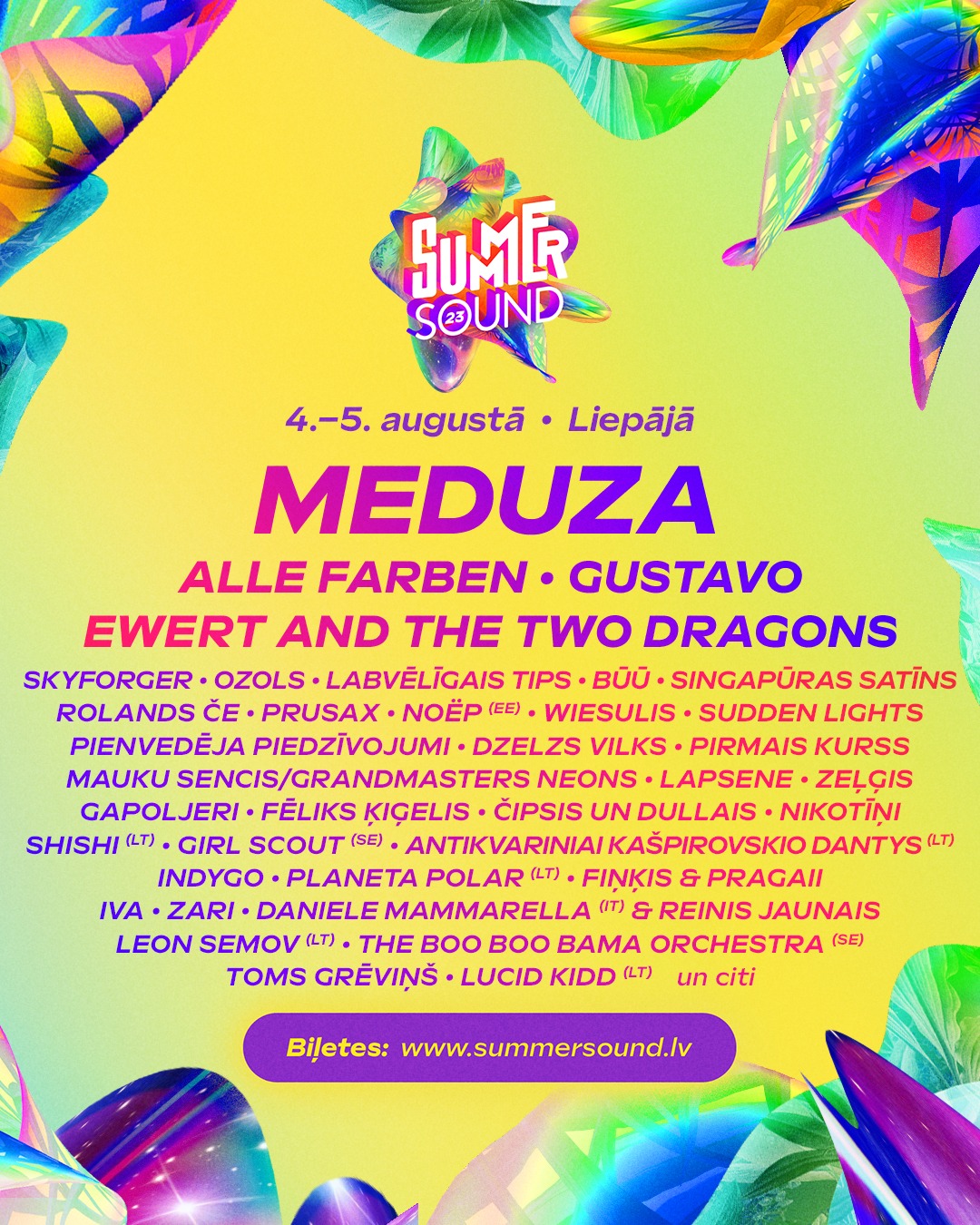 It was previously announced that German electronic music producer and DJ Alle Farben, the most current musician and producer from Estonia NOËP, the legendary LABVĒLĪGAIS TIPS, self-proclaimed rap supergroup, Singapūras Satīns, hip-hop artists ZEĻĢIS, Ozols, rolands če, and the kind-hearted and humorous band Pirmais Kurss will participate in this year's festival.
In addition to the previously announced "Summer Sound 2023" artists, the following artists will perform at summer's biggest adventure: Grammy-nominated DJ and producer super-trio from Italy MEDUZA, hip-hop artist Gustavo, legendary indie-rock band from Estonia Ewert And The Two Dragons, the pagan folk-metal band SKYFORGER, singer and songwriter Būū, Sudden Lights, Pienvedēja Piedzīvojumi, Dzelzs Vilks, Prusax, Wiesulis, Mauku Sencis/Grandmasters Neons, Gapoljeri, Fēlikss Ķiģelis, Lapsene, Čipsis un Dullais, Nikotīņi, Indygo, Finķis & PRAGAII, ZARI, and Italian guitarist Daniele Mammarella will perform with Reinis Jaunais.
Also, there will be a party until the early morning with Toms Grevins, and several Lithuanian groups: Leon Semov, Planeta Polar, Shishi, Lucid Kidd, Antikvariniai Kašpirovskio Dantys, the alternative indie-pop-rock duo from Bulgaria IVA, Swedish groups: Girl Scout and The Boo Boo Bama Orchestra, and many others.
Historically, the festival organizers have created an eclectic program, providing an opportunity to enjoy the widest possible musical diversity. Each visitor has the opportunity to create their own best summer adventure.
The "Summer Sound" festival, which took place for the 10th time in 2022, has become the largest festival in Latvia and one of the most important summer outdoor events in the Baltics. Offering a rich program of music and entertainment, it gathered 40,000 visitors last year. During the two days of the festival, visitors have the opportunity to watch concerts by more than 70 local and international artists, enjoy various attractions and shows, and finally, relax on one of the most beautiful beaches in Europe!
Bobe.me also went to "Summer sound 2022". Take a look how it went!
Day 1:
Day 2: