It is beginning to look a lot like Christmas. Winter has just knocked into our doors and all warm and spicy holiday songs slowly sneaks in whether you want it or not. This week's Global Weekly will have a bit of that festive holiday mood.
Before we head to the winter festivities and new musical surprises, let's have a moment to remember Fleetwood Mac singer-songwriter Christine McVie.
Touching the topic of heartbreak, grief and emotional ups and downs, Tom Walker has released a video consisting of real life stories from his fans. Emotional video, reflecting on struggles, but filled with hope for "The Best Is Yet to Come".
Reflection is this week's theme for sure! How did your 2022 in music looked like?
Spotify Wrapped digs in into your Spotify stats to reveal your fave tracks, artists, genres and offers a new feature - your "listening" personality and mood. In case you haven't had a look at your top track list by now, then maybe now it's the time - see your Spotify Wrapped 2022.
Instafest offers to create your dream festival line-up based on your Spotify, Apple Music or Last.fm listening habits. For sure, this would be a line-up no actual festival could top. See for yourself on Instafest!
Christmas, Christmas all around...
Sam Smith after a hot sexy and provocative single Unholy, that went viral everywhere even before the official release, came back to his true romantic soft style with Night Before Christmas. This song is going to be a part of upcoming album "Gloria" and maybe also your Christmas mood playlist?! Perfect soundtrack for a marathon of gift buying, baking cookies with your friends and drinking tea alone under a Christmas blanket. Released in the end of November "Night Before Christmas" delivers snowy winter mood right on time. "But when I am with you I don't feel the cold", hope not only Sam's song will tell it to us this holidays.
Following fresh festive releases "Kid on Christmas" by Pentatonix and Megan Trainor should be mentioned. Megan, after making us all look in her trending hit, appeared as a guest in a new song by American acapella group Pentatonix and nicely completed already existing and well known voice combination of the group members. Classic, even vintage Christmas motive reminds of winter romantic comedies and brings holiday joy from the first seconds. You can find "Kid on Christmas" in their new album "Holidays around the world", where Pentatonix in collaboration with 10 global superstars presented new holiday songs and reimagined classics.
Talking about reimagining classics: Christmas is a great time for a new beginning and an opportunity to bring new life to old traditions, ideas and of course music.
All the Small Things stand out from another side. A composition by Blink-182 appeared in a reimagined version for The John Lewis Christmas advert song 2022. From pop-punk and alternative rock a 90th hit made a step to the side of slow dramatic lyric. New version of All the Small Things was performed by Mike Geier, a singer, actor and entertainer from Atlanta, who took part in America's Got Talent and mostly known for his clown alter ego called Puddles Pity Party. An ad itself tells a story of foster parents that at the time of winter holidays are expecting for a child. The father learns how to skate to impress his future daughter. The release of John Lewis' Christmas ads every year become a UK tradition and a reminder to hurry up with buying gifts, the short movies they create engage you in emotional trip with moving songs and cover versions.
Looking back at your past self, can be fun, embarrassing and sometimes sad, what about looking back at your favourite band, how they have changed through time?
Retrospective to Beastie Boys. From 10th of December a street art gallery Beyond the Streets in Los Angeles will held an exhibition dedicated to the hip-hop group, who became the first rap act to chart a Billboard top album with 1986's "Licensed to Ill". All the archival items, original handwritten lyrics and clothing worn by the group in music videos from the personal collections of Adam "Ad-Rock" Horovitz and Michael "Mike D" Diamond. As Beyond the Streets founder Roger Gastman says: Beastie Boys were a part of so many people's lives. It was hard to be anywhere in the '80s through the early 2000s without seeing, hearing or having something to do with Beastie Boys. We're excited to tell their story in an authentic, real way that the fans can relate to".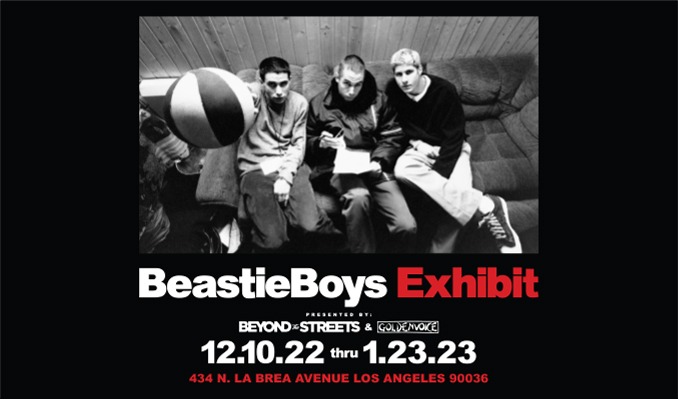 To add some sprinkles on top and with the topic of legendary bands: Backstreet Boys are back on track with new album "A Very Backstreet Christmas" including 13 songs, three of which are originals. Go check what the band of our childhood is doing now and feel the Christmas spirit of their new music.
Hot headlines is one thing, but how about some hidden gems? Here are some of our discoveries and recommendations:
Listen: Vancouver Sleep Clinic offer their take on Coldplay's hit song "Yellow". More mellow and ambient feel version featuring also Amelia Magdalena and Pop Goes Ambient.

Watch: Close by Lukas Dhont. Film that leaves the audience sobbing. Telling a story about a pure and close friendship, which gets ruined by the people around them and shows the cruelty and the footprint it can leave, changing people lives forever.
Rewind time: Interview with Ivan Dorn. Ukraine is still fighting and needs our continuous help.