Tallinn Music Week is an international new music festival that brings together a diverse range of artists from around the world, with a focus on emerging talent and cutting-edge sounds. TMW aims to be a positive connector, promoting cultural exchange and fostering the development of the music industry in the region. The festival's 15th edition is set to take place in the Tallinn from May 10th to 14th, 2023.
This year's edition promises to be even more exciting than previous years, with a record number of artist applications received and a unique collaboration with AI to create a design for the festival. In addition to the music festival, TMW also features a comprehensive conference program, offering a unique opportunity for industry professionals to network and learn from each other.
TMW 2023 passes are on sale at the TMW webshop. Until the end of January the PRO Pass, which grants access both to the music festival and the conference, is available for 150 euros, rising to 175 euros in February. The selection of passes also includes Festival Pass and Supporter Pass.
TMW signature design for the festival was recently revealed. It was created and executed by designers Vello Lutter and Uku Kristjan Küttis of AKU Collective, using artificial intelligence and website design and development by Raik Ilves.
An elegant process of co-creation with human creativity and artificial intelligence – a symbiosis of natural and synthetic – the artwork of TMW 2023 expresses our hope that human-driven creativity, responsibly assisted by technological advantage, is a force of good, to protect and preserve life and beauty on earth. The new signature design expresses the idea of music and culture as an ecosystem, in which the virtual roots and the fruiting bodies, organic cables and tendrils that sprout from it form a dynamic whole.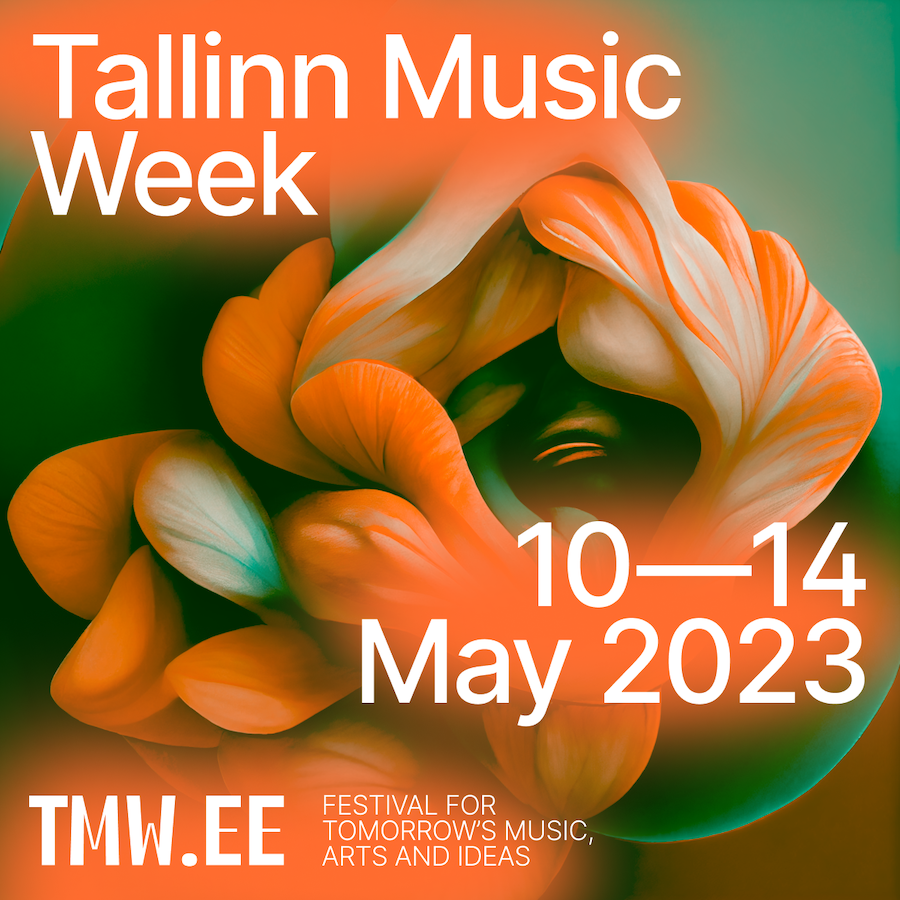 Vello and Uku: "TMW's new visual language was co-created with artificial intelligence, as AI generated the visuals from given prompts. Key words that the final solution had to follow were: forward looking, inspired by ecology, fun, flexible, unifying, contemporary, lively, fresh, surprising and cool. The pictures and visuals created by the AI were dipped in a springtime romantic orange-green palette of colours. The prompt the AI followed was "beautiful elegant colorful rhizomes in a wavy eco-system and intertwined with blossomed abstract flowers, high resolution, insanely detailed, photorealistic, 8K."
The festival's artist application call closed in December, resulting in a record-breaking number of nearly 2000 artist applications from 85 countries, the highest numbers of which were submitted from the United Kingdom and Germany, followed by host country Estonia. The number of applications from the United States and Italy also increased considerably and there is continued attention towards the festival among artists from farther countries, such as Taiwan, Senegal, Zambia, Mozambique, Kyrgyzstan, Philippines, and Ecuador.
"It is a pleasure to see that the message of TMW as a positive connector has spread around the world," says TMW's Head of Music Taavi Esperk. He adds, "Besides getting such great results from the leading music markets like the UK, Germany, Italy and even the US, we are very glad that nearly 40 Ukrainian artists are wishing to perform at TMW. Additionally, we will take a closer look at the evolving scenes of Baltics and Poland and will once again highlight the trendsetting sounds of Africa and its diasporas."
All applications will be reviewed by TMW's team of music curators, which includes representatives of both Estonian and international music organisations and experts in various genres and scenes. A confirmed line-up of around 150 artists will be announced from February to March 2023.
In addition to the music festival, TMW will also host a conference taking place at Nordic Hotel Forum in Tallinn, Estonia on Friday, 12 May and Saturday, 13 May. The upcoming conference focuses on current breakthroughs and future scenarios in music and culture through three main thematic tracks: Co-creation, Connected World and Sustainable Future.
Important topics will be addressed such as what humans and AI tech can accomplish in collaboration with each other and whether we have stayed on top in navigating the digital world. There will be forecasts on the future of radio and music education, the role of curators as cultural mediators and the new solutions for live touring in an era of soaring energy prices and the post-COVID landscape. The conference also aims to take a closer look at the Baltic region and Poland, explore local interpretations of global trends and recording studios as multi-purpose spaces for co-creation, and examine the range of practical strategies to support the sustainability of the industry – from mental health to carbon-conscious production and consumption.
TMW 2023 topics are: Human-AI Co-creation, Global-Local Connections, Understanding Digital, Rethinking Touring, Curator vs Consumer, Studios on the Rise, Future Radio, A Look Ahead: Music Education, Breaking Into New Markets, In Focus: The Baltics, Poland and Ukraine, Sustainability Strategies.
The conference will host a Music Moves Europe dialogue session, as a framework for the European Commission's initiatives and actions in support of the European music sector.
The Founder and Director of TMW Helen Sildna comments:
"There is great power in connecting with people from diverse walks of life – artists, scientists, entrepreneurs, educators, policymakers and visionaries from around the world – to improve our sector and quality of life through music and culture. The last three years have created turmoil in the world. A new term – permacrisis – has been coined. Facing the complex effects of the climate crisis, pandemic, inflation and war in Ukraine, it's starting to dawn on us that the new normal can not be turned back, but can be managed and steered if we update our navigation methods and set new goals. We will learn to find new pathways by becoming the best at collaboration. The overarching themes of TMW 2023 are co-creation, a connected world and sustainability strategies. From mental health and new funding models to tackling the complex permacrisis. Join us!"
The TMW conference and PRO programme offer inspiration, practical activities and networking opportunities to over 1000 international music industry professionals, artists, entrepreneurs and policymakers each year. The full TMW 2023 conference programme and speakers line-up will be published gradually from February to April.
Whether you're a music lover, an artist, or a professional in the industry, Tallinn Music Week is an event not to be missed. Get your ticket and see you there!