Glastonbury Festival, a five-day festival of contemporary performing arts that takes place in Pilton, Somerset, England, has started. Till 26th of June it will bring together music lovers and hottest music stars. This year's line-up feature Billie Eilish, Paul McCartney and Kendrick Lamar on the main Pyramid Stage. Diana Ross, Olivia Rodrigo, Pet Shop Boys, Megan Thee Stallion, Herbie Hancock, St. Vincent, Lorde, The Libertines, Kacey Musgraves, Leon Bridges, and many more are among the diverse line-up.
In collaboration with Latvian photographer Uldis Siliņš we will give an insight into the festival, capture the mood in photos and share Uldis experience as a photographer in Glasto. Here's what Uldis had to say while being on the road to the final destination – Glastonbury festival's site. Photo gallery below.
Glastonbury is one of the biggest music events on many music fans' bucket lists. Uldi, what attracts you to Glastonbury?
Glastonbury was, is and will be and it doesn't necessarily beg anyone to love it. It's simply so that everyone falls in love with it the first time and never ever forgets it. Festival seduces with its freedom, its vastness, its energy. Glastonbury is way more than an event that brings together a few hundred thousand people from all over the world for five days in the English countryside. You have to feel it!
Tell us about your first impressions when you came to Glastonbury?
I would say that instead of quick first impressions it's more like a good meal that you savour slowly, but the enjoyment comes later. And these feelings, these impressions, they don't go away, they stay for a very long time.
It's the second time you've got the photographer's accreditation at Glastonbury. What are the rules, the criteria, the restrictions to make that happen?
I am not and never have been a professional photographer. I take pictures for myself and for people who love to see my photography from music events. I don't care about the recognition, the "likes" and reactions on social media. I do it for my own pleasure and for the pleasure of others. And it's not really my problem that sometimes I do it better than our local media representatives – they simply don't go to Glastonbury, but I do.
To be honest, I really don't know what the criteria are for being accredited as a Glastonbury photographer. I know the steps, procedure that must be taken in the beginning, but what happens after that, I don't know. Of course, I can assume how the Glastonbury press people think, but I can't say anything for sure. I cannot say what needs to be done to get a positive answer. Suggest what to do and how to do it, yes, I can do that, but nothing more.
As I said, this is our media problem. It is much easier to create and live under the illusion that what we do here locally is a top level. And so we live, we tell ourselves that all kinds of Eurovision, the X Factor, contests we do are world class, but when comparisons are made, not even at world level, take European level, it is another bitter disappointment. And so every year.
That is why our media should go to events like Glastonbury and talk about them, so that we ourselves and our music people can see more what to aim for. But as for now the Latvian media don't come here, I will. Of course, this is my opinion, and it may not coincide with the opinions of our music world gurus.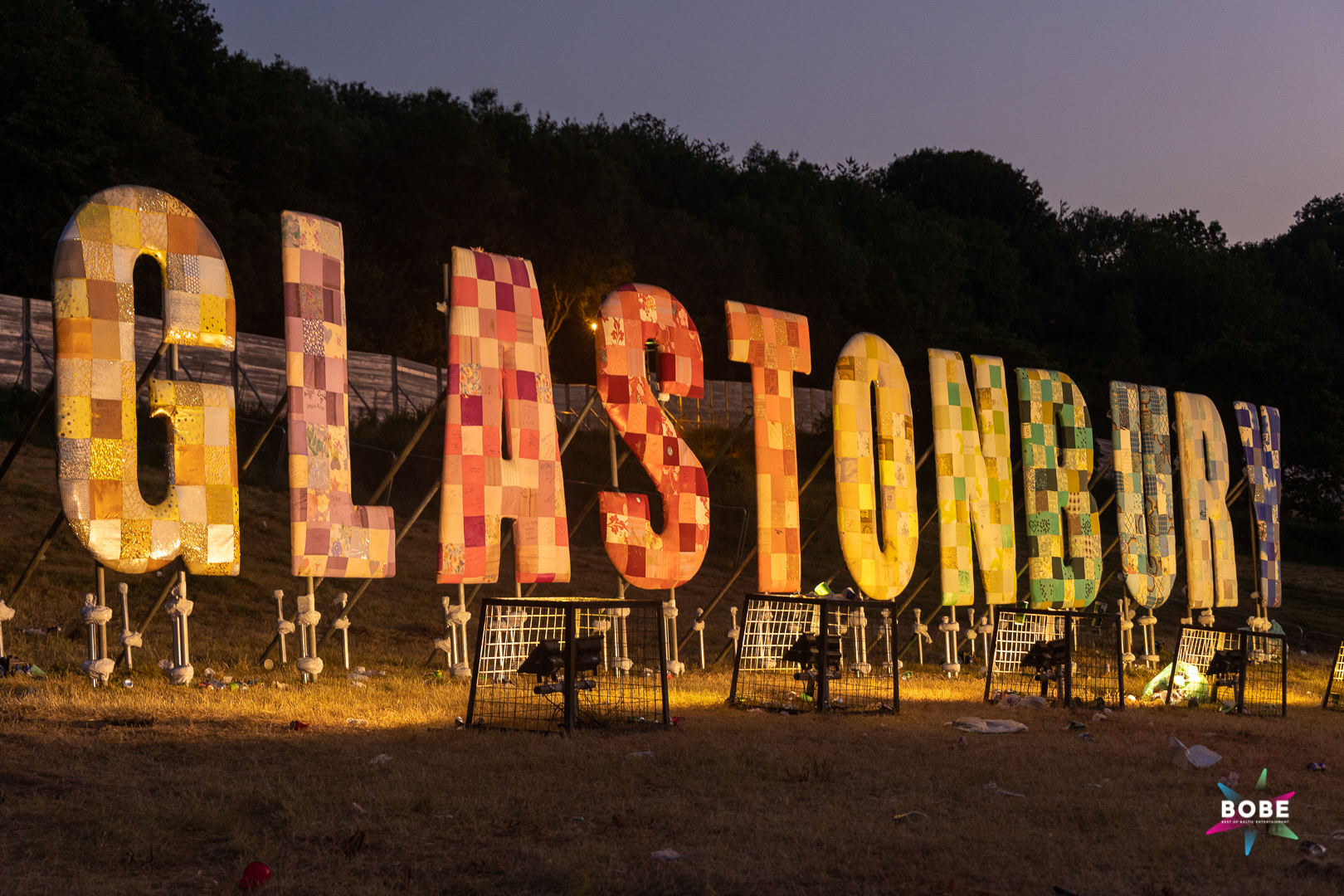 © Uldis Siliņš for bobe.me
As you were already at Glasto once, what are the insights, observations that you've taken for consideration when planning this year's festival?
The first question that everyone has to ask themselves is about the wellies. Before coming to Glastonbury the first time, I asked musicians who have been to Glasto for recommendations and the answer was categorical: wellies! Of course, the local English people do not have to consider things like this, but as we have to fly by plane and pack the luggage, it's an important factor for us. Of course, climate change is happening, and there are no epic disaster like scenarios like in movie scenes of a guy diving into his tent for his car keys after a night of rain. Not this year, and every drop of rain is welcome...
It is very important to plan what you take with you, whether those would be personal belongings, equipment or other. For me it's photography equipment, laptop, tripod... which together are a weight. We don't even think about it when we drive up in the car and then take our stuff out one by one. Here you will have to get to the train with all your luggage, wait on the platform for the train, where there are many hundreds or a few thousands of people like you who want to travel. Of course, at some point they will all leave, but you will hardly want to wait for the next train in an hour, then the next again...
On the train, you watch the countryside for more than an hour before you fall asleep without noticing it yourself. There are dozens of buses from the train station to the festival site, but you still have to wait patiently and queue for more than an hour for your bus. And this is where my experience helped. The hat shouldn't be in the bag, it must be at your hand, available at all times. The same with water bottle, you will have a chance to fill it up, but always carry it with you.
Moving further – festival site. I had a different queue than regular festival attendees, but even I had to wait about an hour to get it. Judging by the queues at the main entrance, I think they had wait for at least several hours. Then, with 30 kg on my back, it was a few kilometres to the media tent where the last check-in takes place and then to the guest tent city.
If that sounds unbearable to you, then don't go to Glastonbury!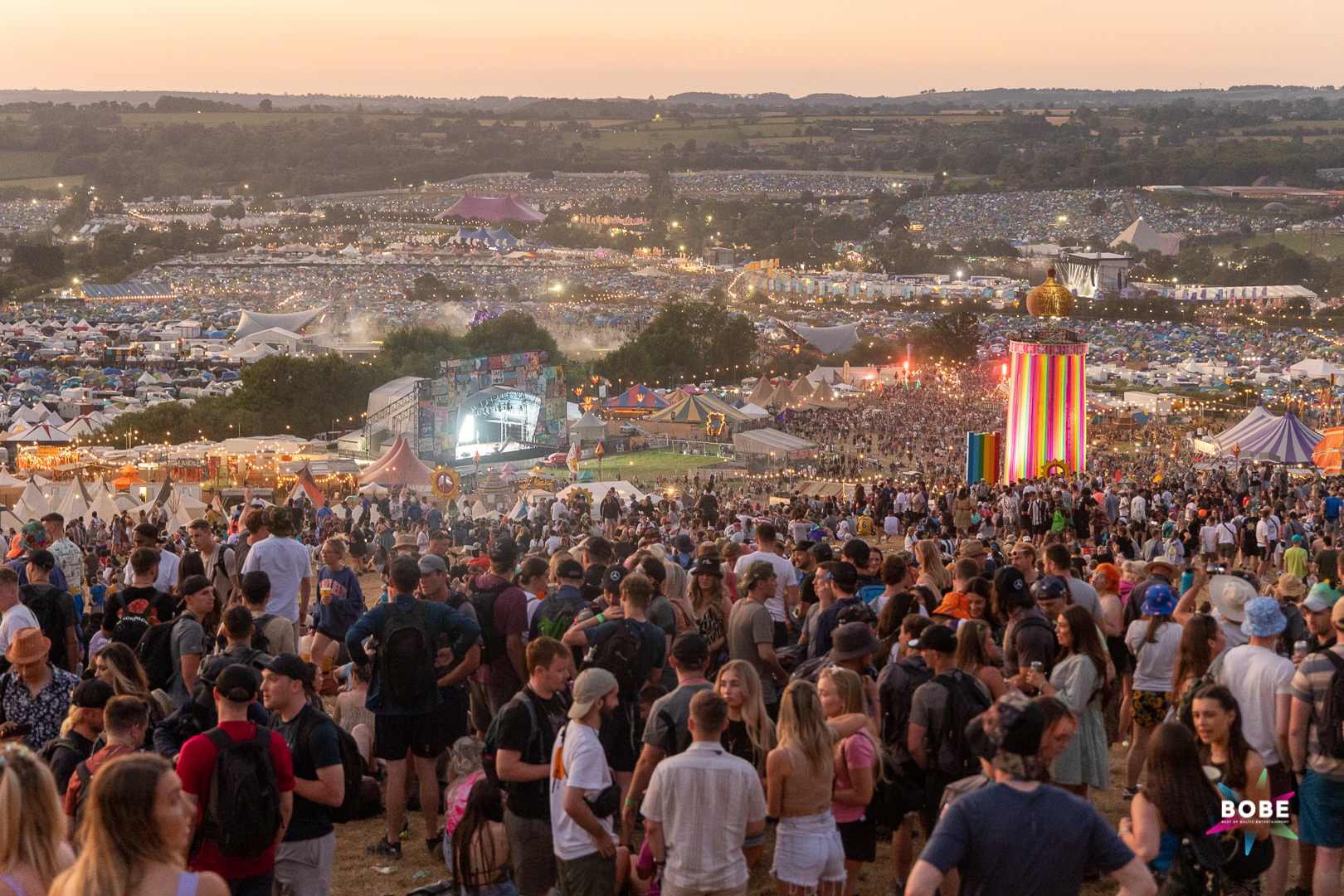 © Uldis Siliņš for bobe.me
Riga - Glastonbury, at what point do you catch the festival feeling, is it already there on the way?
You can really feel that Glastonbury Festival is about to happen by taking the London Underground to Paddington train station. But Paddington, yes, other people better not be there at this time. Castle Cary station is the destination for the vast majority there.
I cannot fail to mention the problems with baggage reclaim at London airports and the train strike on the very day of my arrival. Very briefly. When I got to the baggage carousel, my bag was almost on its way to the next round. I ran over and managed to remove it. I don't know, maybe it's different at Heathrow, but at Gatwick, at least for me, it was even too fast. Train strike... yes, it really paralysed the lives of many Londoners. I also discovered on arrival that all trains from Gatwick to London had been cancelled. The most popular solutions for those who didn't arrive were car hire, taxi, hotel right there until the next day. I chose another option, talking to local knowledgeable people until I found out that there would be a train to London and in 15 minutes. When travelling to Glastonbury, you don't have time to think, you have to act. After a short run, I rested on the train.
But the truest sense of the festival is when you see the skyline through the bus window. Then it's clear, yes, you're here.
That was the day before, Wednesday, when nothing happens at the festival, but thousands of people are already here to watch the sunset together, to see the evening panorama of the festival. Of course, the nightlife here is on high, but even though my tent city is very close to a big night bar, I hear nothing gathering my strength for the next day. I know that when the sound-check starts at the nearby John Peel stage at around 4am, we'll get up together. But it won't be today. Today is the big day before it all starts for real.

Take a look at the first photos from Glastonbury Festival 2022 and stay tuned for more. © Copyright 2022 Uldis Siliņš (Photo distribution, re-posting, copying is strictly forbidden).